Debbie Huckle, Road Safety Officer, London Borough of Brent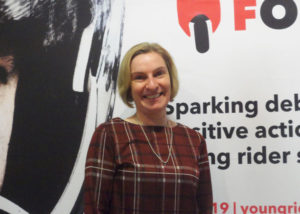 Debbie Huckle is the team leader for safety and travel planning at the London Borough of Brent and has 18 years' experience of working in road safety.
She is also honorary secretary of the London Road Safety Council and enjoys working with colleagues on projects to help reduce casualties in London.
Debbie has a keen interest in motorcycle safety, especially as the renowned Ace Café is located in Brent, and given her role as vice chair of the 2Wheels London Stakeholder Group.
Presentation: Electric bike hire in Brent
As part of the new healthy streets approach, councils are being encouraged to promote cycling and walking to help reduce congestion and improve air quality.
In partnership with Lime UK, Brent Council is trialling a scheme to enable people to hire electric assist bikes. In this presentation Debbie will share the council's experiences in encouraging people to use this mode of travel.